For a city that aims at becoming resilient, it becomes imperative to put efforts in both preparation and adaptation strategies and formulate ambitious and achievable goals to be translated into tangible risks mitigation and management strategies of the same. It's important that climate change mitigation should be complemented by adaptation measures, which focus on reducing vulnerability and increasing resilience to the impacts of climate change that are already occurring. In short, mitigation & adaptation strategies go hand in hand!
Key Points
Greenhouse gases Reduction: main target of climate change mitigation is reduction of greenhouses gases
Definition of CCM: actions to prevent the long-term effects of climate change
Long-term Prevention: Climate change mitigation pertains to long-term prevention
---
What is climate change mitigation?
Climate change mitigation pertains to strategies and actions adopted to prevent the long-term effects of climate change. The first and central purpose is to reduce greenhouse gasses emissions. That principally includes heat management policies to ensure a more sustainable future for cities and population.
---
Climate change Mitigation Strategies
These strategies will elucidate on the options to holistically tackle heat from different angles, for different vulnerable groups and holistically addressing urban heat resilience in planning. (more informations about our theoretical and conceptual Framework can be found in the SITGES Report, page 16).
Mobility:
To meet the European Union's carbon reduction targets and create more livable cities, mobility must be addressed by promoting walkability, cyclability and accessibility to public transportation. Furthermore to increase equal access to mobility, shared mobility should be promoted at a street level, as well.
Grey Infrastructure:
It is necessary to build shade structure, cool pavements, building and street orientation.
Green Infrastructure:
Urban greening is an integrated network system of both planned and unplanned green spaces within an urban area. Urban greening offers co-benefits ranging from cooling, shading and reducing flood risk as well as creating ecological habitats and providing psychological benefits to its users.
Water Infrastructure:
Water usage and demand increases during extreme heat events and water capacity is therefore under stress. This creates water scarcity and unequal access to potable water.
---
Mitigation of the risks
Heat management encompasses the social side of heat-risk-reduction, through emergency response, social services, communication, awareness and education and community resilience.
Public health:
Decrease mortality and morbidity. The function of public health in heat response is to protect and promote the health and safety of the community during periods of extreme heat.
Social cohesion:
Enhancing social links within a community to develop its capacity to face shocks and chronic stresses.
Communication, education & awareness:
The population and specific vulnerable groups need to be educated and informed about the key messages, techniques on the dangers of heat and how to avoid them.
Emergency preparedness:
Including contingency planning for extreme heat events and coordination between the different bodies.
---
Developing mitigation & adaptation strategies: case study for Porte de Montreuil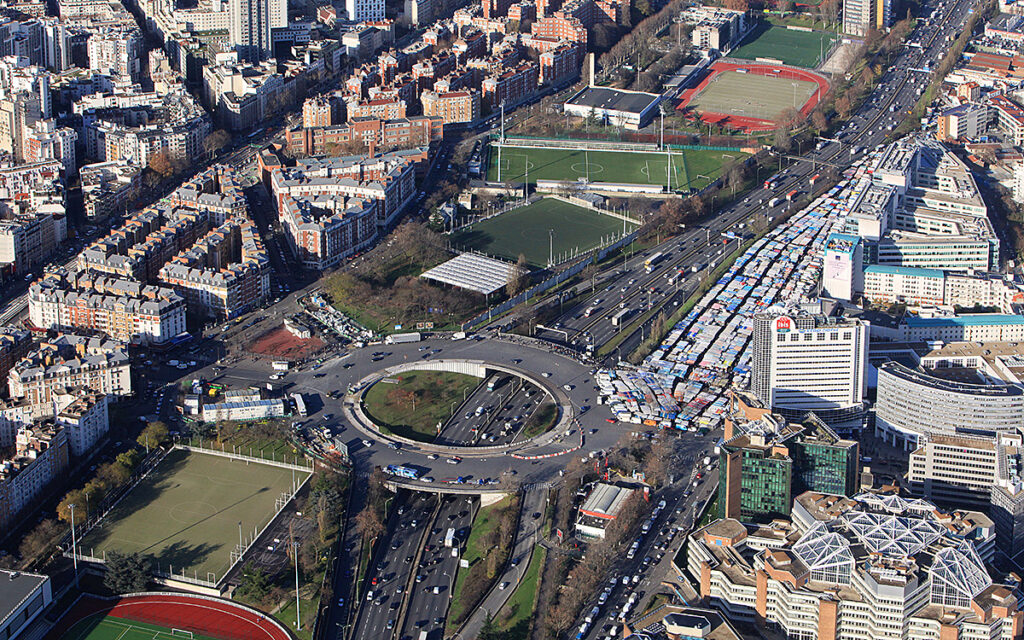 The vision for the Porte de Montreuil urban project is centered around the creation of a metropolitan square which forms a gateway between Paris, Montreuil and Bagnolet. The square will be transformed to a multi use public space that unifies the three surrounding communities and ensures landscape continuity. The project will reduce motor traffic along the ring road and make the crossing more safe and accessible for pedestrians. This will be achieved by transferring vehicle traffic to the periphery of the roundabout and creating a large public space in the center. The new square will form a central point along a green belt which will offer a heavily planted permeable surface, thus improving biodiversity and providing habitat for urban wildlife. The project also aims to create a new economic center through the revitalization of the Montreuil flea market and the creation of better connection with neighboring areas.
---
Disclaimer
This article is inspired by the work of UCCRN Education team. More informations about perspective, theoretical framework and references can be found in Sitges Report and Paris Report.